The Uniform Store will open soon
Riders/Support: To access the store, please log into your personal fundraising page. 
If you have not already ordered your uniforms, please order now.  If you wait, there is no guarantee that your desired size will be available.
Uniforms will not be for sale during the Tour.
All uniform transactions including exchanges must be completed by APRIL 20, 2021.  
ALL exchanges must be pre-approved by the Chapter Uniform Coordinator via email (uniform.socalput@gmail.com)  prior to returning any items for exchange.  The member is responsible for ALL shipping charges.
Orders will not be processed unless applicable shipping charges are added.  YOU MUST SELECT A SHIPPING RATE BASED ON YOUR TOTAL PURCHASE PRIOR TO CHECKING OUT.   SHIPPING CHARGE IS NOT $1!
PUT Jerseys are a relaxed fit and are meant to be worn loose.  This style allows room for rain gear, windbreakers, arm warmers, etc, to be carried in the pockets as well as layering underneath in cold weather.  PUT Jerseys also run large, please order down at least one size from your normal jersey size.  The jerseys are not race cut.
ALL RIDERS ARE REQUIRED TO WEAR THE STANDARD POLICE UNITY TOUR JERSEY – NO EXCEPTIONS! You should consider purchasing at least two jerseys for the three-day ride.  You may wear any SOLID BLACK riding short/riding pants only.  You may wear any color rain gear.  There is no official Unity Tour rain gear available. 
Note: You will be asked to change, cover up, or be removed from the ride if you fail to comply with uniform standards.  Every single member is represents the entire group.
The Police Unity Tour riding jerseys, windbreakers and vests are unisex and not the usual bike fit, the sizes (S,M,LG,XL,XXL) run one size larger.  For questions regarding uniforms please contact:
Kathlene Matthews 
Uniform Coordinator
Short Sleeved Jersey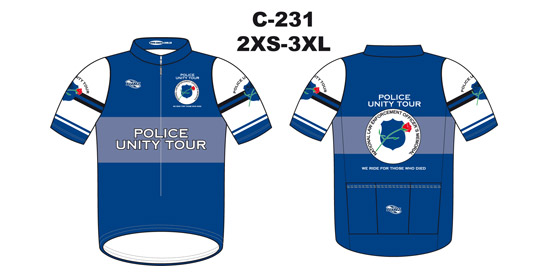 Long Sleeve Jersey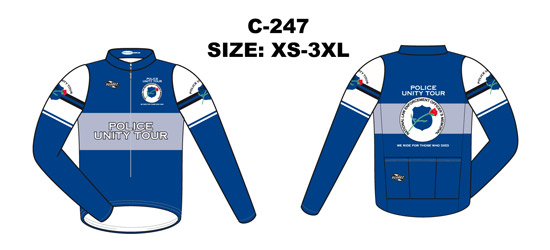 ---
Windbreaker Vest**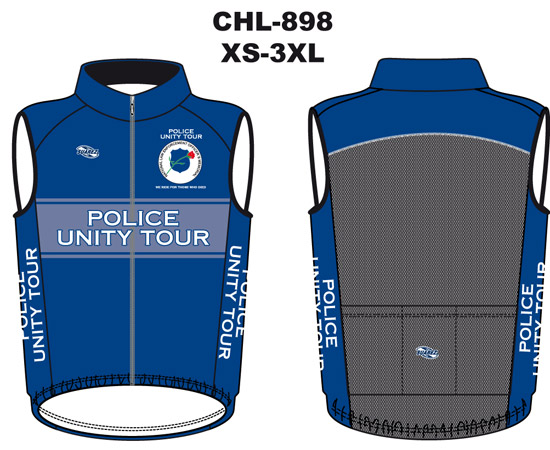 **Vests are to be worn over Police Unity Tour jersey.
---
Gloves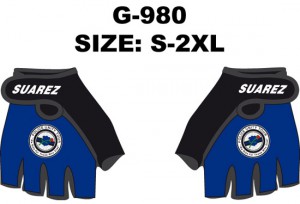 Mountain Bike Shorts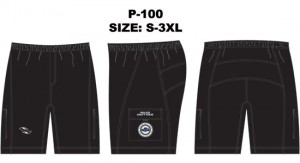 ---
Lycra Bike Shorts/Lycra Bib Shorts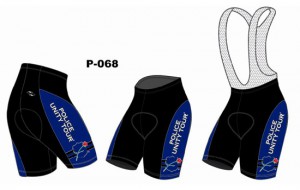 ---
Socks in Black or White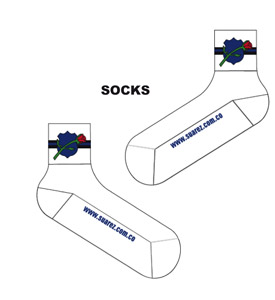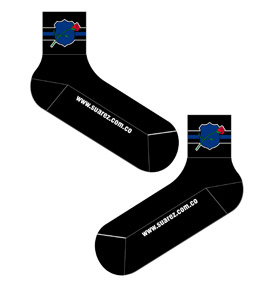 ---
Blue & White Street Jacket***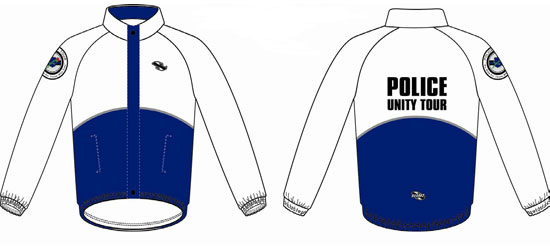 ---
***The Blue & White Street jacket MUST be ordered directly through Bikeland.  See attached order form.
---
All orders must be made through of Police Unity Tour, Southern California, Chapter 7.
There are no returns.
---